We take pride in our work.  It shows from the equipment we choose, the paper we use, and the service we provide.  Ask to see our paper sample book that is full of great paper choices.  We can do any quantity over 100.  Yes, we do have volume pricing - just ask your customer service representative.
Click here for full color pricing.
We also have great pricing on black and white copies.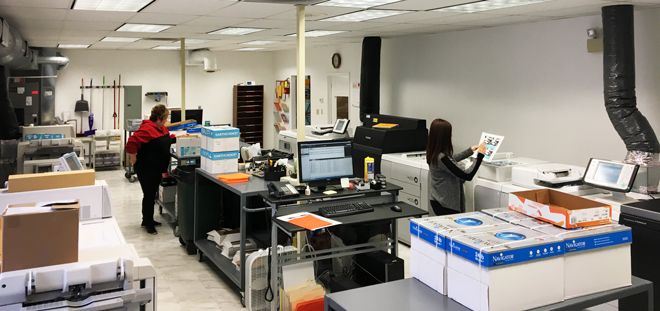 ---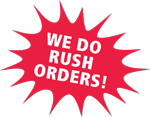 How much time does it take to complete your project?
We can have your digital printing done in a short period of time. Your digital job can be completed in a timely fashion, depending on job complexity.
Normally digital jobs are complete 1-2 days after proof approval. (Based on a first come first serve basis.) Sometimes jobs may take longer depending on quantity, finishing (scoring/folding/cutting/die cutting), special order stock, incorrect customer files, AA's (customer requested changes).  When submitting your quote, please inform your Customer Service Representative when you need the job completed.
---
Digital Printing?? Offset Printing??
To ensure that we give you the best price possible...
We also offer offset printing for larger quantities.  Most offset printing jobs take 4 to 7 Business days to complete. Be sure to contact a Customer Service Representative who will review your job specifications and let you know if it is more cost effective to print digital or offset.
---
What type of file should you provide?
• A high resolution pdf is the preferred format.
(PDF files must have fonts/graphics embedded. Save your PDF file with 300 DPI)
• TIFF files must be flattened and saved as CMYK.
• EPS files must have all text switched to curves/outlines.
• Don't forget to leave 1/8'' extra image area on all sides if job bleeds.
When submitting a PDF, or any file format for that matter, it is very important to make sure that you have proofed your project and checked it over thoroughly.  It is expensive* to make changes after the initial proof has been given.  Please review your proof thoroughly and in a timely manner to ensure that we complete the job on time.
* AA's - Author Alterations:
If a client asks for a change or needs to send a new file after first proof has been delivered to the customer it is considered an AA.  There is a minimum charge of $10.00 for AA's.  Cost can be more depending on the type of project and corrections requested.