---
CUSTOMER SATISFACTION IS VERY IMPORTANT TO US
Please take a moment to leave a review on your experience with Banksville Express Printing.
We would greatly appreciate it!
---
NEW ITEM! Synaps Paper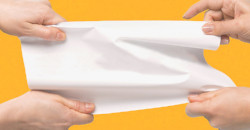 Synaps paper is tear proof!
Banksville Express Printing now offers Synaps which is a synthetic paper product that is very durable.  Lamination has historically been the best way to protect your printed material such as menus, maps, posters, bookmarks, prayer cards, signs etc. Unfortunately, over time the lamination can separate or dog ear leaving an inferior product which is especially true of menus due to the constant use.
Synaps synthetic paper is the perfect option to lamination due to its durability and serviceability. It is a waterproof, tear proof plastic that allows our print technology to combine with the paper creating a much more durable product with a professional image quality. It is printable on both sides, can be scored and folded and wipes clean with soap and water. Hard-to-clean stains like red wine can be removed–we suggest using Folex spot remover.
Print is ever changing and evolving–contact Banksville Express Printing and evolve with us!
---

---

---
"These days, people are more apt to look at a website first before contacting a company. Our website has allowed us to give customers a visual of what we can do. It opens doors to business we may never have gotten otherwise. It has not only helped us with local business, but we also receive orders from all over the United States and internationally. We have customers who come to Pittsburgh for a convention, etc. who call ahead to have their printing order ready when they arrive here, saving them time and shipping costs. We will deliver the final product to the location when they arrive." 
-Rick Ozanick, Banksville Express Printing