We ONLY hire from our employment application.
All resumes and applications are strictly confidential.
Click to fill out an online employment application.
Click to download a hard copy of our employment application.
•  You can mail your application to:
   Banksville Express Printing, Human Resources
   2239 Banksville Road
   Pittsburgh, PA 15216
•  Scan and Email to:  hr@bx-print.com
•  You may also stop in at our location and fill out an application.
---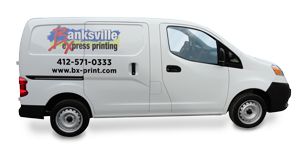 Local Delivery Driver / Warehouse
Fulltime, 4 day / 40 hour work week, position available. Delivery driver / warehouse position as of January 2022. Must have valid driver's license. Vehicle is a compact cargo van, Nissan 200. This position does not require a CDL license. This position does require lifting. Local delivery area. Applicant can be trained. Working hours are Tuesday – Friday 6:00 am – 4:30 pm.  Starting pay is $15.00 per hour plus benefits. Benefits include paid medical, dental, life and disability insurance, vacation, holidays, IRA retirement plan and profit sharing.
Banksville Express Printing ONLY hires from our employment application that is available on our website at www.bx-print.com. You can apply online or download the application and email it to HR@ bx-print.com. You can also attach your resume along with the Banksville Express Printing application. If you would prefer to use the U.S. Postal Service please send to: Banksville Express Printing  Attn.: HR  2239 Banksville Rd. Pgh PA 15216. You can also stop in and apply. All applications and resumes are confidential.